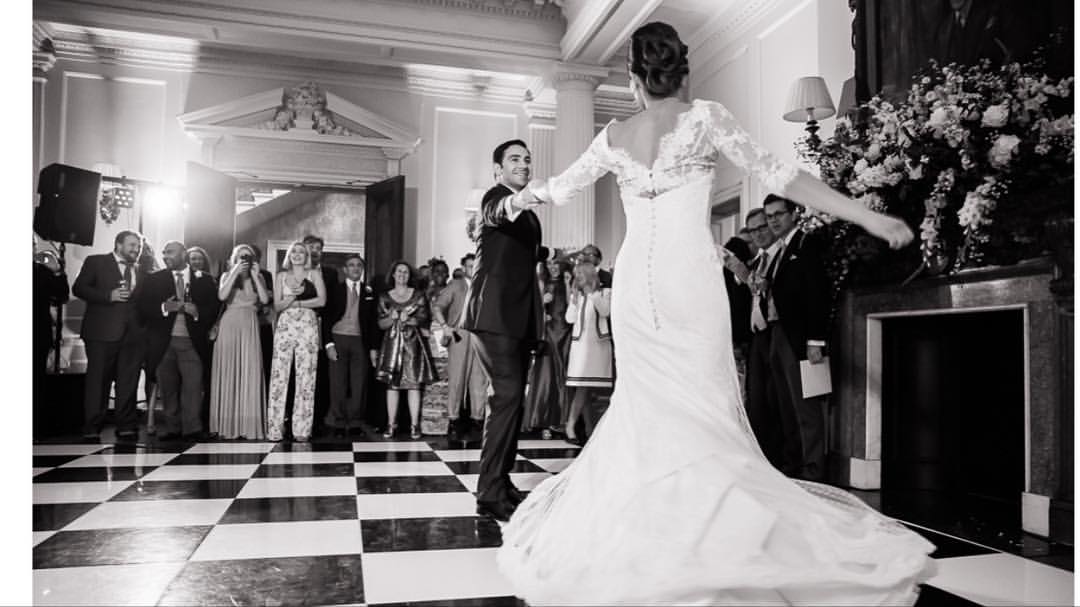 Wedding Dance Lessons to Steal the Show on Your Big Day
Wouldn't it be fantastic for your first dance to put together a few simple and nice steps, add an introduction and why not a finale and surprise everyone on your big day?
The wedding dance though it may last only a few minutes it
can be a magical moment. but
it would feel to last an eternity if you don't know what you are doing. Have you seen how awkward and hopeless couples who go for the usual
"wedding shuffle"
come across? They look ridiculous!
You can try to skip the wedding dance, but go on and say this to your bridal party. One of my couples (Ed and Sophie) tried it, and when they told this to their family and friends they nearly lynched them! Ed and Sophie took up lessons and ended up stealing the show on the big day with their first dance (look at their photo above!).
Learning is Easy!
Learning to dance, especially first dances, is about building confidence and that's why you don't need to worry at all if you haven't danced before.
In fact, it's better this way because the two of you will learn at the same pace.
All you need to do is relax, the rest is practice.
Choose the wedding dance package that would suit your needs, the time before the big day and your expectations and you can have a comfortable, relaxed yet impressive first dance. All done in a way you will:
look natural

be at ease and, above all…

enjoy every moment!
Bring along the special song or a selection of songs you want to dance to. If you haven't decided yet what song to dance to, we will help you choose your first dance song, and then build your from the start to the end.
Packages to Suit Every Couple
The last-minute Wedding Dance Packages (the best one is either the three or the four standard session package) offer a convenient option if your wedding is not far away. Remeber, even one lesson can make a difference.
Packages of five, six or more lessons offer more choice of dances and time to practice for those who want to add more to their wedding choreography.
Popular First Dances for Your Big Day
Ballroom Dancing: Fox-Trot | Waltz | Argentine Tango | Viennese Waltz.
Latin Dancing: Rumba | Jive | Cha-Cha | Mambo | Disco | Salsa
You'll find a guide to each of these dances and first dance songs examples further down the page.
Venues for Tuition in London
For Wedding Dance Lessons London, you can book lessons at the studio, or your own home, or premises anytime that suit the two of you. Locations include:
Kensington, West London
Swiss Cottage, North West London
Marylebone, Central London
Weekday evenings and Saturday daytime tend to get busier during the wedding season. I can accommodate lessons anytime leading to your wedding day, it's about knowing what times & days work best for the two of you.
Booking Times for Your Lessons
You can book private dance tuition slots anytime weekdays and weekends, including Sunday from 7.00am to 10.30pm.
I know how busy it gets, especially with the wedding preparations full on. My couples tell me there are always details about the wedding popping out of the blue all the time.
Please let me know a number and a good time to call and regardless how busy I am, I'll always find the time to call to discuss details about your wedding first dance and make a booking.
Lessons & Packages
A standard lesson lasts 90 minutes; a single lesson lasts 45 minutes.
Standard Lesson £139

Single Lesson £75
Wedding first dances packages consist of a combination of 90-minute sessions.
Package One: 2 X Standard Sessions £275.00
Package Two: 3 X Standard Sessions £410.00
Package Three: 4 X Standard Sessions 540.00
Package Four: 5 X Standard Sessions £660.00
Package Five: 6 X Standard Sessions £770.00
Get in touch now using the contact details at the top of the page or feel free to call Paul anytime on 07849336110 to talk more details about your first dance and book private dance tuition for your big day.
Top Favourite Wedding First Dance Songs
There is no right or wrong when it comes to choosing your first dance song. Go for any type of type of wedding songs, we will make it work.
If you like the song you want to use as your wedding dance you won't go wrong. For example, one couple went for The One by Kodaline; it was special to them.
This list is made of wedding dance songs popular with wedding couples.
Let There Be Love – N. K. Cole
Brown Eyed Girl – Van Morrison
Can't Take My Eyes off You – Andy Williams
It Had to Be You – H.C. Junior
Just the Way You Are – Billy Joel
At Last – Etta James
Fly me to the Moon – Frank Sinatra
That's Amore – Dean Martin
L-O-V-E – N. K. Cole
Por Una Cabeza – From Scent of a Woman
First Time I Ever Saw Your Face – Roberta Flack
Happy – Pharell Williams
Time of My Life – From Dirty Dancing
Loving You Forever – Al Green
What a Difference a Day Makes – Dinah Washington
Thinking Outloud – Ed Sheeran
All of Me – John Legend
A Thousand Years – Christina Perry
To Love Somebody – Michael Bubble
You'll find more wedding dance songs using our page totally dedicated to wedding first dances Wedding Dance Workshops.
Get in touch now using the contact details at the top of the page or feel free to call Paul anytime on 07849336110 for help choosing your first dance song or to book wedding first dancing lessons in North London.
Once you select the song, building the wedding day dance becomes easy. The section below will help you make an informed decision.
Ballroom Wedding First Dances and Songs Explained
Fox-Trot
Fox-Trot as a wedding dance is superb. It has a massive selection wedding first dance songs and it would go down well with the guests. You cant go wrong with it. Songs include:
Can't Take My Eyes Off You by Andy Williams
Moondance by Van Morrison
Let There be Love by Nat King Cole
Waltz
As a wedding first dance, Waltz is popular with many wedding couples. It tends to be gentle with wedding gowns and it is impressive to watch. Songs include:
All of Me by John Legend
At Last by Etta James
Lay Me Down by Sam Smith
Argentine Tango
Argentine Tango, of all first dances, is unique. It would make your guests want to watch you dance non-stop. Songs include:
Easy Virtue Tango from the movie Easy Virtue
Por Una Cabeza from the movie Scent of a Woman
Santa Maria by Gotan Project
Viennese Waltz
Viennese Waltz is a fantastic wedding first dance. It makes the wedding gown glide around like nothing else. If the dress is not too restrictive, go for it! Songs include:
Thousands of Years by Christina Perry
Can't Help Falling in Love by Elvis Presley
Jazz Suite No. 2 by Shostakovich
Latin Wedding First Dances and Songs Explained
Rumba
A Rumba wedding dance always does the trick. You can dance it to any floor size and the song selection is great. Songs include:
Being Boring by Pet Shop Boys
Thinking Outloud by Ed Sheeran
Amazed by Lonestar
Cha-Cha
Cha-Cha first dances show off the wedding gown like no other dance. The guests will love it as well. Songs include:
Truly, Madly, Deeply by Savage Garden
Love Song by Taylor Swift
Dancing in the Moonlight by Toploader
Jive
Jive as a wedding dance is fun and also set a lively atmosphere for the rest of the evening. Songs include:
I'm a Believer by The Monkeys
How Sweet It Is to Be Loved by You by Marvin Gay
Crazy Little Thing Called Love by Michael Bublé
Mambo
A Mambo wedding first dance is a guest's favourite. It makes it easy for guests to join you on the floor. Songs include:
Tiny Dancer by Elton John
Time of My Life (J. Warnes/B. Medley) from Dirty Dancing
Just the Two of Us by Bill Withers and Grover Washington Jn.
Disco
No other first dance makes the guests want to come and join you and dance for the rest of the night the way Disco does. Songs include:
Can't Get Enough of Your Love Babe by Barry White
I Gotta Feeling by Black Eyed Peas
Just Say Yes by Snow Patrol
Salsa
Salsa as a wedding dance is a good choice so long as the wedding dress is not too restrictive. It's better to choose a slow song. Songs include:
Subeme La Radio by Enrique Iglesias
Despacito by Luis Fonsi
I Belong to You by Lenny Kravitz
Call or email now using the details at the top of the page or feel free to talk to Paul anytime on 07849336110 for help choosing your wedding dance or to book dance classes in London.
Here's a testimonial from a happy couple who decided to take individual dance lessons in North London area.
"We just wanted to thank you again for a fabulous lesson. We feel like real dancers and really look forward to our wedding day and will impress our guests with our first dance."
Rory & Matilda